Nigerians Pay Tribute To Fallen Soldier, Colonel Abu Ali
Colonel Mohammed Ali's life was snuffed out by terrorists during a gun battle, throwing an entire nation into mourning.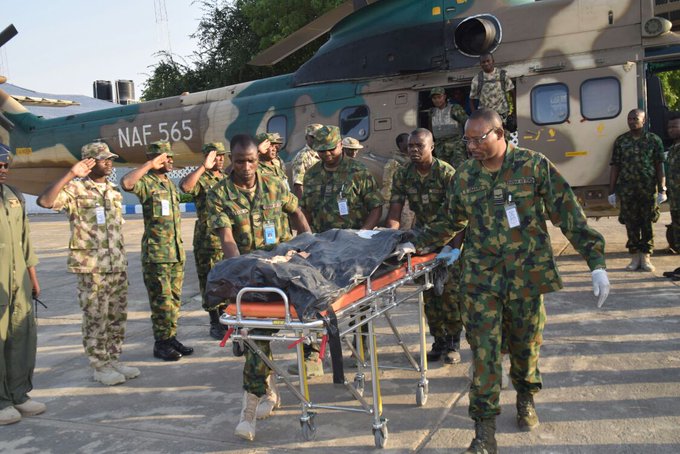 "By all indications, Lieutenant Colonel Abu Ali was a legend", wrote Twitter user @supersanusi.
The social media influencer was joining a long list of Nigerians who have been pouring in their tributes in honour of slain Lieutenant-Colonel Muhammad Abu Ali.
News of Ali's death in battle emerged on Saturday, November 5, 2016.
The fallen soldier lost his life on the front-lines in the war against Boko Haram.
He wouldn't be the first soldier to die in battle against the terrorists, but stories revolving around his exemplary leadership, his bravery and conquests, have catapulted him (even in death) into the nation's hall of fame.
Sani Usman who is the spokesperson of the Nigerian Army, told of how it happened:
"Yesterday at about 10.00pm, suspected Boko Haram terrorists attacked a 119 Battalion Nigerian army location at Mallam Fatori, northern Borno state. The troops fought gallantly and repelled the attack, killing 14 Boko Haram terrorists.
"Unfortunately, we lost an officer and four soldiers, while four other soldiers sustained various degrees of injuries during the encounter. One of those killed in action, was Lieutenant Colonel Muhammad Abu Ali, the Commanding Officer of 272 Task Force Tank Battalion."
Ali was no ordinary soldier, as his colleagues, friends and family love to tell it.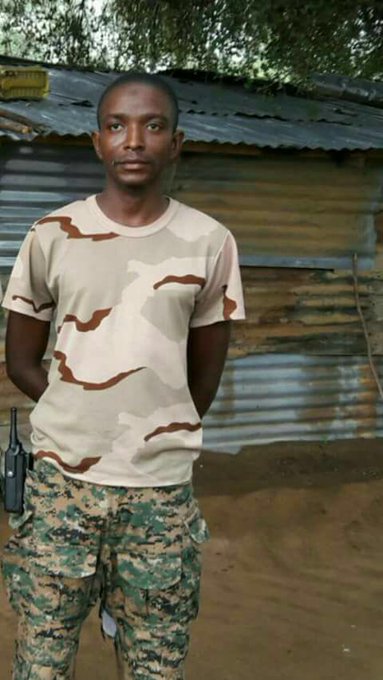 He was one of Nigeria's most intelligent and tactical Army officers.
One soldier who fought alongside Ali described him as a "confidence builder and a game changer", who "led the advance party into Sambisa forest and rescued 298 women".
Ali also led the battalion that captured Bama, Banki, Pulka, Gwoza and Gamboru Ngala—all communities in Borno State–the epicenter of the Boko Haram insurgency.
One particular tale bordering on Ali's bravery needs retelling.
In a chat with TheCable, a soldier recounts how the fallen Lieutenant Colonel led the troops to recapture Baga:
"In the case of Baga, when it was recaptured from Boko Haram, Abu Ali, who led that operation, told the soldiers that they should not worry, that they should only do five percent of the job, that he was going to do 95% of the job with the tanks," the soldier said.
"And that was exactly what happened. He did most of the work with the tanks. He was a major at that time and his promotion after the operation was automatic because he performed very well. One smallish guy like that o."
Ali was one "smallish guy like that" with a big heart and bravado the size of a whale.
Thank you for your service & sacrifice.
Lt Col Muhammed Abu Ali
Rest in Perfect Peace Patriot #RIJF Commander
"I have asked Chief of Staff Abba Kyari to lead a delegation to represent me at the funeral of Lt Col Abu Ali and other fallen heroes, tomorrow", said President Muhammadu Buhari.
"I received the news of the deaths with shock. Lt. Col. Abu Ali was an extraordinary officer who inspired respect among those he commanded.
"No words can do justice to the patriotism and remarkable courage of these soldiers, who laid down their lives for Nigeria",the President added.
Indeed there are no words to describe the pains of bereaved families who have watched helplessly as their sons, husbands, wives and daughters have been killed by Boko Haram's brutality in the north of Nigeria; whether as soldiers or as civilians.
"Our hero is going home", said UK based journalist Kayode Ogundamisi.
Twitter user @P_Muye wrote: "Rest In Peace Lt. Col. Muhammed Abu Ali…one of Nigerian Army's most gallant officers. He died fighting Boko Haram last night".
"They are cowards and will remain so", @Musadiqz blared in apparent reference to the terrorists.
Ali gave his life fighting for his country.
In an era when the "hero" term is used a bit too loosely, no one will begrudge Lieutenant Colonel Ali as one.
There are several heroes out there as well on the battlefields dotting the North East region of Nigeria–soldiers who've lost life and limb fighting the enemy around the country.
Nigeria should look after them and their families.
May their souls continue to rest in peace.
Culled from: pulse.ng